We are family-owned and operated, not a large, impersonal corporation. We share in your celebration and strive to make your special day everything that you dreamed.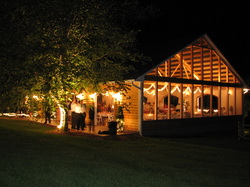 Rosa Lee Manor is still an operating farm. It is owned by the Hunter family since the early 1800's. At one time, it was several hundred acres. Today, there is still 200 acres of the original farm in our family. Rosa Lee Manor was established in 1994, 23
​ years ago, in memory of our beloved grandmother, Rosa Lee Adams Hunter. There are many historic structures - and memories - tucked away on the property.

You can dress us up or dress us down. Although, we provide a countryside setting, it is elegant. So you can pull off a very elegant event, or your event can feel rustic and charming. The grounds have endless rose gardens and perennial gardens which will reduce or even eliminate your need for decorating. You won't need to blow your budget decorating.

We have intentionally not commercialized the property, so there are no paved parking lots or glaring flood lights. Instead, there are quaint winding roads, twinkle lights and lit torches to create the romance needed for any special event. We are nature lovers. We protect our wildlife. While you won't see (or smell) our livestock (cattle, horses), you may see herds of deer, wild turkeys, black bear, many many birds. Our gardens are designed to attract butterflies. Our water features will provide a beautiful backdrop for your photos as well as background sounds of fountains and falling water in harmony with the night sounds of chirping frogs and hooting owls.

Because we are family-owned and operated, we are busy on the farm or preparing for the next event. Emailing us is the fastest way to get a question answered. Please email or call for an appointment to visit with us, since our entrance into Rosa Lee Manor is gated and only open during events or Open House.



---